Storage Unit Information | High Cliff Storage Sherwood
A Family Owned & Operated Local Storage Facility in Sherwood, Wisconsin
Areas we Service for Self Storage Units
We provide storage units for the cities of High Cliff, Hilbert, Menasha, Sherwood, Stockbridge, and the Village of Harrison, Wisconsin.
What We Offer
We are here for all your storage needs to include your personal, household, or business items. Whether you need a storage unit for just a couple of months while settling or moving, or you need one for long term storage, High Cliff Storage has you covered.
Household Storage: Personal belongings such as seasonal clothing, Christmas supplies, Summer outdoor furniture, recreational vehicles and more.
Business Storage: Use for additional off site storage, equipment, work materials.
Small and Large Storage Units: We have sizes from 10'x10' up to 10'x25' storage units available currently.
Easy Access: We a located right on State Park Rd in Sherwood, WI.
Family Owned and Operated: With our emphasis on personalized service, our family has been in the self storage business for many years and we look forward to being your go to storage facility in Sherwood.
Indoor/Outdoor Storage: At High Cliff Storage we have both indoor and outdoor storage options to cover all your needs.
Self Storage Facility Features
High Cliff Storage is conveniently located at State Park Rd and Pigeon Rd in Sherwood, Wisconsin. We are a family owned and operated storage facility with 24 hour access, locks and supplies offered, large and small storage units, plus outdoor storage for individuals and businesses. Term discounts.
Storage Facility Layout Map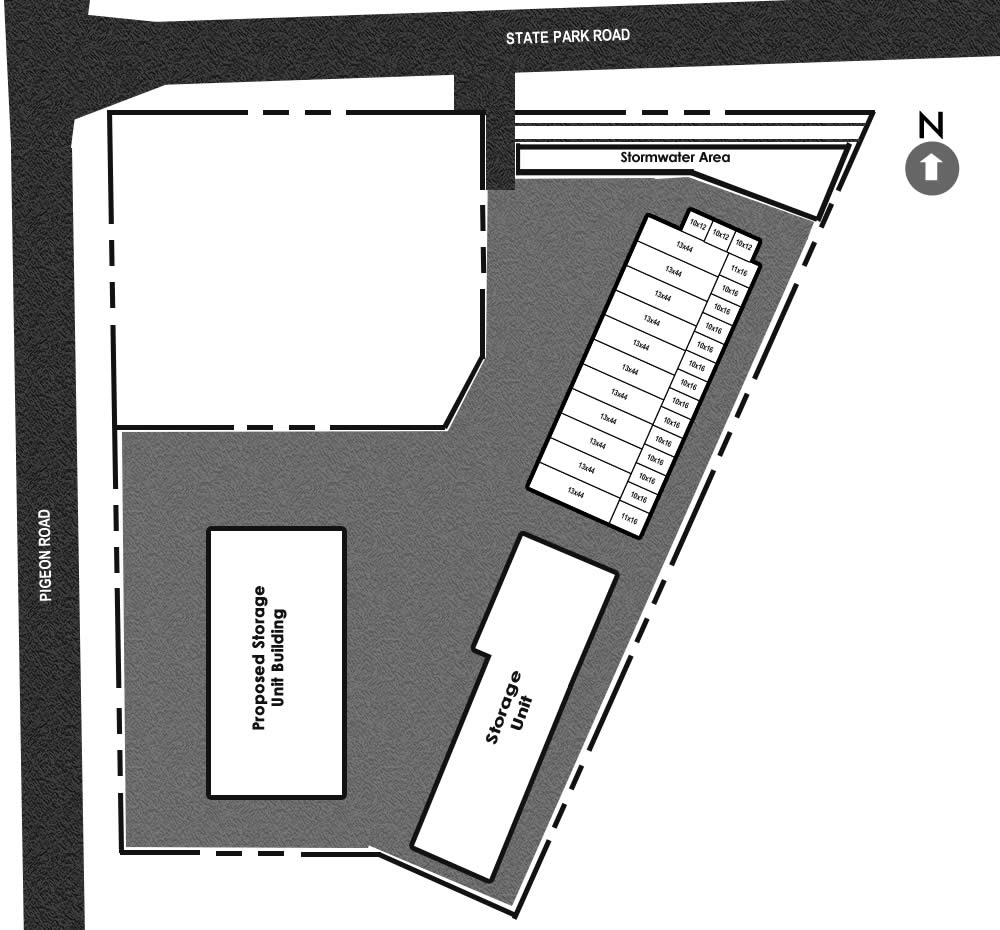 Indoor Storage Unit Sizes
Outdoor Storage Sizes
| Outdoor Unit Size | Mo. Price | Reserve Today |
| --- | --- | --- |
| Fenced Space - Irregular Angled (18x10) | Starting at $35/mo | Reserve Space |
| Fenced Space - Irregular (25x10) | Starting at $40/mo | Reserve Space |
| Fenced Space (25x10) | Starting at $40/mo | Reserve Space |
| Fenced Space - Irregular (25x10) | Starting at $40/mo | Reserve Space |
| Fenced Space - Irregular Angled (25x10) | Starting at $40/mo | Reserve Space |
| Fenced Space (30x10) | Starting at $45/mo | Reserve Space |
| Fenced Space Pull Through (40x12) | Starting at $60/mo | Reserve Space |
| Fenced Space (43x12) | Starting at $60/mo | Reserve Space |